Gratis verzending

Boven de €50,- *

Snelle levering

Binnen 1 tot 4 werkdagen

Veilig & eenvoudig betalen

Altijd blij met jouw bestelling

Scherpe prijzen

Altijd een mooie deal

Reparaties

Boards en zeilen
Advies nodig?
Heb je een vraag of wil je advies over dit product, bel of mail de surfshop:
Omschrijving
SHARK
Sometimes you simply need to Windsurf. Whether it's Freeride cruising or blasting with your friends, you need a board that knows how to go. That's the Shark. While it's perfect for progression and forgiving to intermediates, the Shark lacks no bite in hard-carving super-tight turns – and tests proved it. With top scores in user-friendliness, high-wind speeds and maneuverability, the Shark is a board we're happy to keep precisely as it is. From smooth, graceful cruising to lightning speed runs, the Shark is the perfect platform for fast learners or those looking for a lifetime of Freeride pleasure – or an automatic jibe machine. The proven CAD shaped scoop rocker, comfy domed decks and compact outline are easy to use and push to the limits. 5 durable, high-value sizes come in High Resistance Skin (HRS) construction with PowerBox fins. The most popular 135 and 150 liter LTD sizes are also available in eco-friendly, impact-resistant, super-light and stiff Innegra Carbon/Basalt Sandwich Light construction. LTD construction features Cork in the deck, high-performance, environmentally friendly Basalt Cloth in the base, and our weight-saving Light Finish look in which board coloring is mixed into the resin. In 2014, the Shark will continue to define the phrase "Freeride".

Key Features:
- Easy-to-use compact outline and efficient volume flow and feel
- 80° pintail for drag reduction, jibing and top-end control
- Smooth and forgiving ride from full front rails blending into thinner tail for grip and tight turns
- Double concave cuts through the chop at high speed
- Responsive foot-steering feel from deluxe deck doming

Fanatic's CAD shaper Sebastian Wenzel about the Shark:
"These unique outlines combine a comfortably wide mid-section with a drawn-in pintail, to give the Shark a drag-free, easy-riding feel that's effortless to carve. The rails up front are fuller and forgiving, flowing through to thin, sharper tail edges that bite in turns and slice through the water at high speed."
HRS - HIGH RESISTANCE SKIN
High Resistance composite technology – an optimum weight and durable construction for everyday use. A thick, durable outer skin gives the board hull high strength, plus ding and impact resistance. Strategic use of Glass reinforcements ensures an adequate stiffness.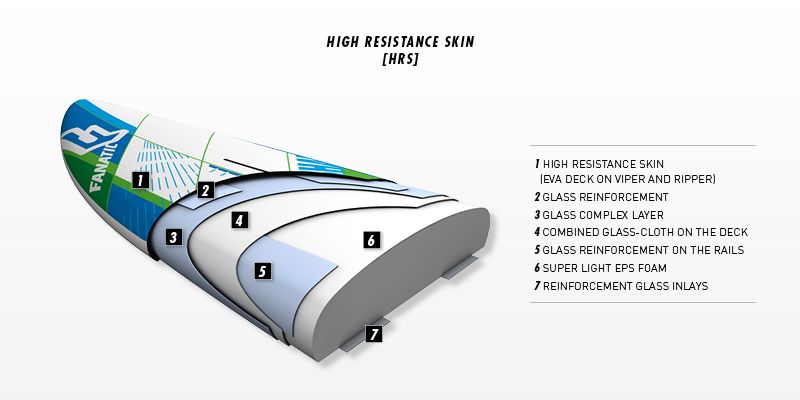 Delen